Okay people....it is getting very near that wonderful day of romance, chocolate hearts, and roses. Yep, you guessed it! Valentine's Day! Lol...in our suite here at school it looks as though (and I quote) "Cupid puked all over our walls". Bahahahaha! We've got paper hearts everywhere, arrows, etc. It's crazy, we'll just say ; )
So on that note I want to mention the Season of Love Blog Party!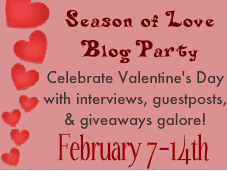 This is going to be sooooo fun, I'm convinced! And why shouldn't it be? Now to steal from Amber's invitation on her blog:
"Who: Everyone is invited!
What: A progressive blog party
When: February 7th through the 14th
Where: Various blogs
Why: To celebrate the wonderful gift called love!
And here's a peek at the tentative schedule, with links to the blogs that will be featured each day:
Monday, February 7th: Amber at Seasons of Humility--Interview with MaryLu Tyndall and a giveaway
Tuesday, February 8th: Renee Ann at Doorkeeper--TBA
Wednesday, February 9th: Casey at Writing for Christ--Interview with Kristin Billerbeck and a giveaway
Thursday, February 10th: Hannah at Project Journal--TBA
Friday, February 11th: Joy at Edgy Inspirational Romance--TBA
Saturday, February 12th: Julia at Darkglass Ponderings--Interview with Jody Hedlund; "romantic" menu of recipes from a chef!
Sunday, February 13th: Renee at Black 'n Gold Girl's Bookspot--Interview with Laura Frantz and a 3-surprise-Christian-fiction-books giveaway
Monday, February 14th: Visit Seasons of Humility for a Mr. Linky listing of all the blogs writing a special Valentine's Day post; winners announced on the participating blogs."
Yes, I'm still TBA. I am waiting to hear back from my author, though, who will hopefully agree! Anyway, I hope that you all will join us because it's going to be a fun time!
Thanks to Renee for making the awesome blog button! And a huge thanks to Amber for getting this ball rolling!!!
Talk soon,
Hannah